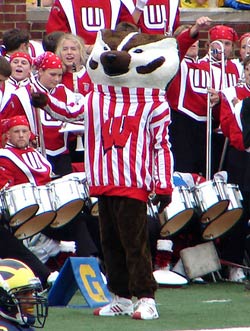 We hope they didn't violate Bucky
No one knows what exactly the Wisconsin Band did on their road trip to the Michigan game last month but it was enough to get them indefinite probation. Univesity of Wisconsin's chancellor John Wiley called it behavior "that can be seen as anything from boorish and offensive to patently dangerous and unlawful." Wiley also threatened to suspend the band's travel activities and remove the director if he got any more reports of "gratuitous vulgarity, sexualized banter or joking, hazing, or other forms of demeaning conduct." Sounds like a great time on that road trip.
The "Personal and Confidential" letter was released to the AP (go figure) but even some members of the band don't know exactly what happened. Chancellor Wiley's special aide Casey Nagy said the offenses were repeat violations of the code of conduct despite earlier warnings from the adminsitration but would not elaborate. If it's one thing we've learned from "hazing" incidents is that they usually involve foreign objects and a rectum. Remember the good old days at band camp when girls would just stick a flute in their vaginas?
Links:
[Journal Sentinel]: Badger band put on probation

[Badger Herald]: Wiley: Marching Band's future up in air
1 Comment(s)
digitalinfoz114 | Jul 26, 2008 | Reply

sports — Yes I also like the sports very much and I watch many a sports in the television. We should play the games because it is good for our entertainment and body fitness.
_______________
brain lara
Addiction Recovery Wisconsin
Post a Comment